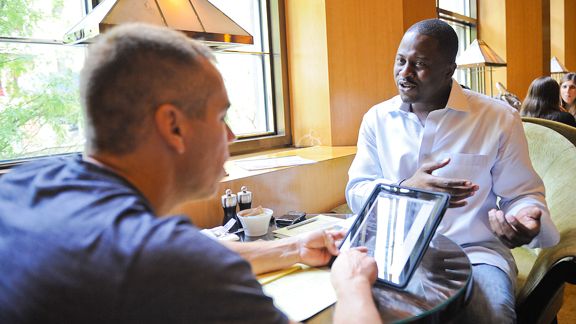 Photo courtesy: Kyle Gustafson
Before boarding a plane for Seattle, agent Mitchell Butler, right, details Avery Bradley's ankle injury.TrueHoop's Henry Abbott provides a fascinating behind-the-scenes look at agent Dan Fegan, who represented top pick John Wall, but whose firm also oversees Celtics' first-round selection Avery Bradley. Check out Abbott's tale of Fegan and Co. working the phones before Boston's pick:
Former NBA player Mitchell Butler, who now works for Fegan as an agent, represents Texas guard Avery Bradley. By draft day, representing Wall has become fairly easy -- he's a lock as the top overall pick. The combination guard Bradley, on the other hand, has an ankle injury that kept him on the shelf through some of the pre-draft period, and has kept him from being able to show off to teams. Bradley was once projected as a lottery pick, but by draft day Fegan and Butler are scrambling to determine a "floor" for Bradley -- a team beyond which he will not fall.

Early in the day, there's plenty of nice talk about Bradley, but no firm interest from teams holding picks in the middle of the first round. Every year, there are some highly regarded players who slide far down the draft board, and there's a concern Bradley could be a candidate.

On short notice, Fegan decides Butler should spend draft night with Bradley and his family outside of Seattle, where they are gathered. Before rushing to the airport for a midday flight, Butler shows Fegan X-rays of the ankle in question. Fegan's instructions to Butler are to "manage family expectations -- it may be a bit of a rough ride."

Early in the day, Fegan workshops different pitches to use to sell Bradley to front offices. His athleticism is a major point. "He tests out," says Fegan, "a lot like Russell Westbrook."

After talking it out, he rejects that approach, and settles on a different theme: Bradley is the 2010 version of another Fegan client, Jrue Holiday. The two, he says, are "eerily similar." Both were touted, coming out of high school, as top-five talents. Both played out of position in college, for a team that won less than expected. Both slipped from the top five on the draft board, even though -- as goes Fegan's talk -- time will show both are among the best picks in their respective drafts.

Fegan seems able to get any GM, owner or coach on the phone in moments, and does, nearly all day. Larry Bird, R.C. Buford, Danny Ainge, Mark Cuban, Sam Presti ... they and many others hear this pitch.

GMs hate the idea of letting someone like Holiday slip through their fingers, and Fegan's job is to seed the worry that such a thing could be happening with this player.

Fegan later admits that he doesn't think these kinds of sales change all that much -- teams are only swayed if they're having a hard time deciding between two players. But he has learned through the years to keep his pitches focused -- to just make a point or two, and then drop it, so that the most important message has a chance of sticking on days when GMs are overloaded with input. And maybe it works. Fegan delivers his Bradley-as-Holiday talk to Ainge Thursday afternoon, and sure enough, the Celtics pluck Bradley with the 19th pick.

The calls goes on throughout the day, and as much as Fegan talks, he also listens. With almost every call, there is fresh insight into who might be selling a pick, and what everybody around the league thinks about this or that player. Other Fegan clients come up too. Almost no matter the issue, Fegan has his homework done. Would he like this client as a Maverick? That one as a Timberwolf? Without any notes, he's ready with quick answers and polished long-term strategies. Then it's on to the next call.
Click HERE to read the full story.
(h/t: CelticsHub)