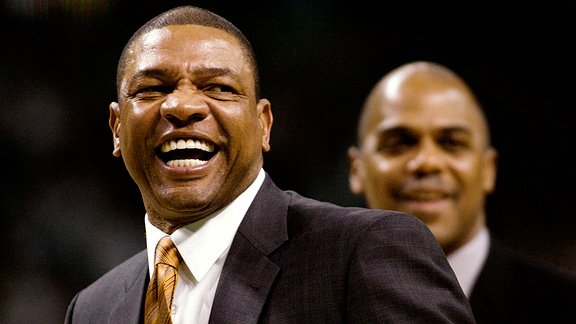 Kelvin Ma/Icon SMI
Doc Rivers will be back on the Boston bench next season.
If the Celtics' offseason forecast was deemed cloudy from all the uncertainty surrounding the team's future, news that Doc Rivers will return to the Boston bench next season is the sun potentially breaking through.
While there's still plenty of work to be done in order to keep the core of this team together, Rivers' return is as good a sign as any that the team will do whatever it takes to keep the nucleus together for another title run. It's unlikely Rivers would come back to basketball -- sacrificing time away from the family that nearly pried him out of the final year of his contract -- if he wasn't convinced the Celtics will do everything in their power to bring back Paul Pierce and Ray Allen for the upcoming season.
For a fan base left reeling from the news that Pierce will opt out of his contract's final year to become an unrestricted free agent, Rivers' decision renews confidence that the Big Three era might not yet be over. Sources close to the team confirmed to ESPN.com that Boston anticipates re-signing Pierce sooner than later and will work with Allen through the summer with the hopes of bringing him back. Those two signings would likely ensure that both Pierce and Allen end their careers in Boston uniforms, while extending the window of opportunity for this new Big Three at least two more seasons with Kevin Garnett's contract running through the 2011-12 campaign.
"Doc is excited to come back and coach our team next year," Boston GM Danny Ainge told ESPN.com. "He feels rejuvenated about coaching this group next season."
It's an interesting choice of words for Ainge to note "this group." While it might be reading too deep, it sure seems to suggest Rivers will lead a group similar to the one he took onto the court for Game 7 of the NBA Finals earlier this month before letting Banner 18 slip away in the fourth quarter of a loss to the Lakers.
The Celtics currently boast only five players under contract -- Garnett, Rajon Rondo, Glen Davis, Kendrick Perkins and Rasheed Wallace -- and Ainge will be challenged to both reassemble and strengthen last year's roster given potential cap limitations. Wallace is expected to retire, but could free up cap space if he sacrifices all $13 million remaining on his contract. Perkins is expected to be sidelined into the 2011 calendar year as he recovers from surgery scheduled for next week to repair a torn ACL.
Boston must also address its other free agents -- key role players over the past three seasons like Tony Allen and Brian Scalabrine -- who the team would seemingly want to keep in place. But there's far more optimism than existed after Pierce's news broke Tuesday night.
Rivers' return does come as a bit of a surprise, even to his players.
"No, man, I had no idea [Rivers would return]," Davis told ESPN Radio Wednesday. "I was thinking about the offseason and how I can't control that. I was hoping he would come back, obviously he's a great coach and helped a lot in my career. Another year is great."
And now Davis is excited about the prospects of keeping the band together. Asked if Boston would atone for its Finals loss if the team came back with much of its core, he said, "Most definitely."
Davis added: "Another year together, a different mental approach knowing that we should have won it [last year], it makes the Boston Celtics a scary team next year."