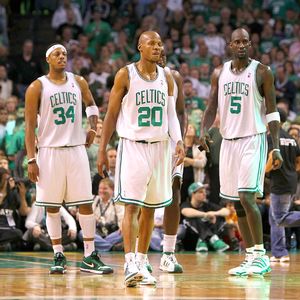 Jim Rogash/Getty Images
The Celtics must decide how many good years Paul Pierce, Ray Allen and Kevin Garnett have left.With coach Doc Rivers back for the 2010-11 season, will Celtics president of basketball operations Danny Ainge give an aging Big Three another run or two? Free agency might dictate Boston's plans writes colleague Peter May:
One wild card in this equation is how much longer Danny Ainge and ownership think this group (a) can stay together and (b) can win together. The one thing none of them wants is to be shelling out $45 million to three 30-somethings on a team that has no realistic chance of winning. (Then again, how many of us gave them anything more than a puncher's chance this spring and look what they did.)

They could make the decision that this group -- and by that we mean Pierce, Ray Allen and Kevin Garnett -- still has two years left and budget accordingly. Garnett is already signed through 2012. Allen and Pierce could be given two-year extensions and the trio would be given two more years. Realistically, however, it might only be a one-year run because of the lockout hovering on the horizon.

My guess is that that won't satisfy Pierce or Schwartz. He is going to want at least three and probably four years, given that he's giving up one year (and unlikely to get it back in one season) and that there also is the prospect of a lost season due to a labor stoppage. He would still be only 36 when the four-year deal expired.

Is there anybody out there -- other than the Celtics -- who might give Pierce such a deal?

One man comes to mind, although it would be completely antithetical to his previous machinations: Donald T. Sterling.

Paul Pierce a Clipper? Hold that not-so-happy thought.

Sterling has been the habitual loser in Los Angeles, playing the nail to Jerry Buss' hammer. The Los Angeles Lakers aren't going away and will be among the favorites to win it again next season. Why not try to make a splash and become relevant all at the same time by signing one of the greatest players to ever come out of Los Angeles and bringing him home?

The Clippers offer an intriguing roster, even if they still don't have a head coach. They have Pierce's buddy Baron Davis. They have Chris Kaman, who had an All-Star-worthy year at center last season. They have a (presumably) healthy Blake Griffin ready to play and another impressive kid in Eric Gordon. They got three decent picks in the draft. Throw Pierce into that equation and you have to think the Clippers are, at the worst, a playoff contender in the brutal West. But they would be discussion-worthy.

The Clippers have the cap space to accommodate Pierce and, frankly, is anyone thinking that the real marquee free agents are even entertaining the prospect of playing there? Short answer: No.

And let's suppose that the gossip is correct on the Wade/LeBron/Bosh triumvirate convening in Miami. That leaves a lot of teams with cap room. Maybe none of them wants to spend a significant chunk on a guy like Pierce, who has taken a lot of pounding. But all it takes is one.
Click HERE to read the full story.