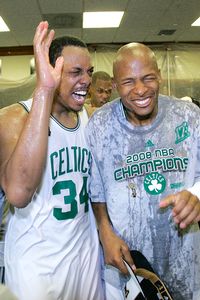 AP Photo/Winslow Townson
Will free agents Paul Pierce and Ray Allen try to recapture that championship feeling?News that Doc Rivers will return to the Boston bench next season sends the Celtics into free agency with renewed confidence that they can reassemble and strengthen a championship-caliber roster.
But unless the 48-year-old Rivers plans to dust off his high-tops, he's going to need bodies -- as many as 11 players to fill the voids left by free agency and (potential) retirement -- in order to make a run at another world title. So there remains a great deal of uncertainty about how exactly the Celtics' offseason will play out.
Can Boston bring back the core that's made the team so successful the past three seasons? And is that the best course of action moving forward?
It's an offseason full of questions, and only time will bring answers.
Can the team re-sign key unrestricted free agents Paul Pierce, who Tuesday night declared his intention to opt out of his contract, and Ray Allen? When will Kendrick Perkins be healthy enough to return from surgery to repair a torn ACL?
Rivers and his players prided themselves on the fact that when Boston's starting five of the past three seasons -- Pierce, Allen, Perkins, Rajon Rondo and Kevin Garnett -- were all healthy, they had not lost a playoff series. That led the team to one world title and put it on the cusp of another.
But the Celtics now face the very real possibility of starting the 2010-11 season with only Rondo and Garnett in the opening-night lineup. What's more, Boston currently has only five players under contract for next season, and one of them -- Rasheed Wallace -- is, by all indications, set to hang up his headband after a 15-year career.
A group that stood little more than six minutes from a second world title in three years -- a championship that would have cemented its legacy as one of Boston's finest assemblages of talent -- now finds itself with a potential identity crisis less than two weeks after letting Banner 18 slip away.
Click HERE to read the full story.