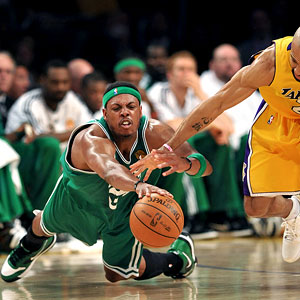 Paul J. Richards/AFP/Getty Images
Paul Pierce is engaged in talks with the Celtics about a long-term extension.ESPN.com's Marc Stein checks in with the latest on Paul Pierce and his venture into unrestricted free agency:
The Boston Celtics and captain Paul Pierce's representatives opened talks on a new contract Thursday and are making progress in negotiations, according sources close to the situation.

While Pierce has received introductory inquiries from "a few" other teams, Boston is the only team he's currently engaged with, sources told ESPN.com.

Pierce joined the most anticipated free-agent class in NBA history by notifying the Celtics that he was opting out of his contract Tuesday and walking away from next season's $21.5 million salary.

Since that decision, though, Celtics coach Doc Rivers has pledged to stay on the bench for at least one more season, giving Boston management increasing confidence that it will soon come to terms with Pierce on a new deal.

Multiple sources with knowledge of the team's thinking told ESPN.com on Wednesday that the team believes it will secure a verbal agreement from Pierce before July 8, which is the first day players and teams can execute new contracts.

Pierce, though, has not discouraged outside interest, even though it appears he is not yet prepared to talk with other teams.
Click HERE to read the full story.