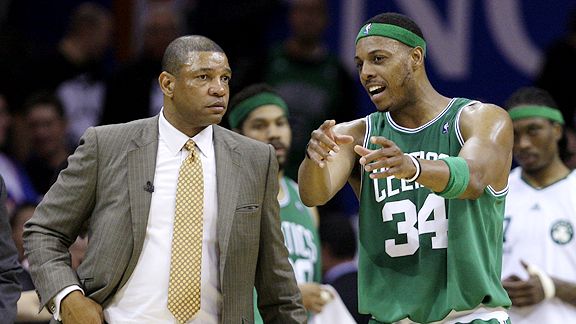 AP Photo/Mark Duncan
The Celtics brought back two leaders this week: Doc Rivers and Paul Pierce.Cross another one off Danny Ainge's offseason checklist.
In the days following Boston's Game 7 loss to the Los Angeles Lakers in the NBA Finals, Ainge, the Celtics' president of basketball operations, suggested his preference was to keep the core of the 2009-10 team together for another run at a world title. That possibility seemed murky at best with coach Doc Rivers pondering retirement to spend more time with his family and Paul Pierce and Ray Allen set to test unrestricted free agency.
But in the past few days, the Celtics have made great strides in ensuring that the Big Three -- and much of the core from the past three seasons -- will be in place next year for a shot at title redemption.
After multiple media reports of a deal Friday, a source confirmed to ESPN.com on Saturday that the Celtics and Pierce agreed to a four-year extension that all but ensures he'll finish his career in green. Coupled with the return of Rivers, who announced Wednesday he'd be back to honor the final year of his contract and take another shot at winning with this group, Boston now has two key leaders back in place just two days into the free-agent period.
Pierce cannot officially sign until July 8, but verbal agreements are commonplace after free agency opens on July 1.
Let's be honest, did we ever expect Pierce to walk away? The 12th-year veteran is synonymous with Boston and even when he opted out of his deal earlier this week, walking away from $21.5 million, it seemed unfathomable that he could end up in any other city.
Click HERE to read the full story.