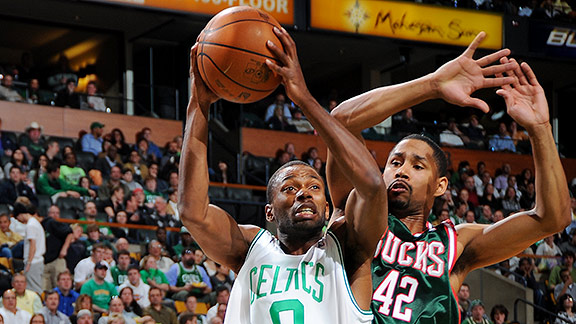 Brian Babineau/NBAE/Getty Images
Oliver Lafayette will benefit from the time he spent with the Celtics at the end of the season.ORLANDO -- When the Charlotte Bobcats take the floor for the opening game of the 2010 AirTran Summer League on Monday, their roster will include Darius Miles, who has eight years of NBA service.
Miles, who nearly made a comeback with the Celtics in 2008 after microfracture surgery on his right knee sidelined him for two seasons, is attempting another run at an NBA return with Charlotte this summer.
Miles boasts 446 NBA games and 11,729 minutes played for his career. By comparison, the Celtics' entire 12-man summer roster features a total of one regular-season game of NBA experience.
Yes, the summer league is geared more toward rookies and the league's youngest players, so Boston's lack of experience isn't exactly shocking. And while a few notable names like Miles' dot the rosters of the eight teams competing here this week, you're more likely to be Googling the game's leading scorer to find out exactly who they are.
Click HERE to read the full story.