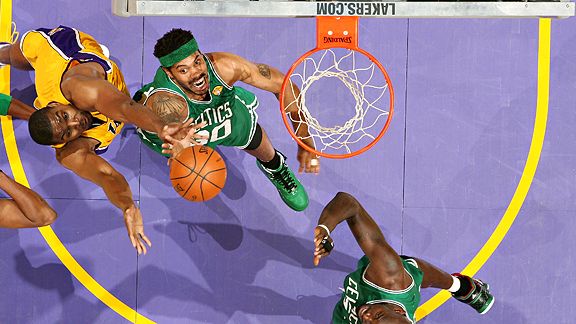 Nathaniel S Butler/NBAE/Getty Images
Rasheed Wallace might have played his last NBA game for Boston.Over the next few weeks, we'll take a player-by-player look at the 2009-10 roster and how each player's season unfolded, assigning a grade for their overall performance. This is the ninth in the series of report cards:
Player: Rasheed Wallace
2009-10 averages: 9 points, 4.1 rebounds, 0.9 blocks
2009-10 salary: $5.85 million
Season in a paragraph: As Boston stumbled its way to a 27-27 record over the final 54 regular-season games of the 2009-10 campaign, Wallace drew much of the venom from fans for the team's inconsistent play. Brought in to be the sixth man that put the Celtics over the top, Wallace was gruesomely uneven and his struggles at both ends of the floor led many to suggest he was the root of all evil in the Boston locker room (even though teammates generally loved him). Wallace righted a lot of wrongs with inspired play in the postseason, often noting along the way that he didn't come to the Hub to waste energy on regular-season games.
Season highlight: May 3, 2010 -- Considered a lost cause by most after providing little in the way of production during a five-game, first-round triumph over the Miami Heat, Wallace reversed public opinion by connecting on 7-of-8 shots for 17 points in a 104-86 triumph over the Cleveland Cavaliers in Game 2 of an Eastern Conference semifinal. Wallace saved his biggest game for an absolute must-win on the road and continued his inspired play against the Magic and Lakers, helping most forget about his abysmal regular season.
Season lowlight: June 15, 2010 -- After Kendrick Perkins tore his ACL chasing a first-quarter rebound in Game 6 of the NBA Finals, the Celtics desperately needed a big man to step up. Wallace missed all seven shots he took in the game, including six 3-pointers over 17 minutes. Boston was never close, but Wallace didn't help their cause.
Final grade: C
Teacher's notes: The inclination is to boost the final grade given Wallace's inspired postseason contributions. Boston simply wouldn't have gotten as far as it did without him playing some of his finest basketball of the season in May and June. However, it's impossible to overlook the fact that, for 82 regular-season games, Wallace was an absolute wild card. Some nights he was fantastic, others he disappeared. Some nights he utilized his crafty veteran skills to dominate, while others he looked like a 15-year veteran on his last legs.
What's next?: Wallace made it clear to many in the Celtics organization that Game 7 of the NBA Finals was likely the last of his 15-year NBA career. He left it all on the floor, looking absolutely gassed after logging 36 minutes in the deciding game. Wallace now faces the prospects of the retirement he hinted at to coach Doc Rivers and his teammates leading up to the deciding game of the Finals. But how will Wallace walk away? Will he walk straight away from $13 million over the next two seasons? Will he request a buyout? These questions must be answered soon, especially if the Celtics hope to use his contract as potential trade bait.
Honor roll: Click HERE to read past report cards.
Don't agree with teacher? Just want to sound off on Wallace's 2009-10 season? Click HERE to leave a comment.