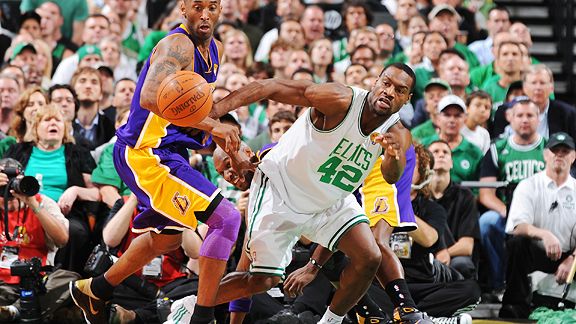 Brian Babineau/NBAE/Getty Images
Tony Allen shows off how he got dubbed the "Kobe Stopper" in the Finals.Over the next few weeks, we'll take a player-by-player look at the 2009-10 roster and how each player's season unfolded, assigning a grade for their overall performance. This is the 10th in the series of report cards:
Player: Tony Allen
2009-10 averages: 6.1 points, 2.7 rebounds, 1.1 steals
2009-10 salary: $2.5 million
Season in a paragraph: After aggravating an ankle injury in his lone preseason appearance, Allen started the 2009-10 season sidelined and it appeared like more of the same from the oft-injured Allen. But after sitting out the first 20 games with the sore right ankle, Allen returned with renewed focus and dedication that was missing in year's passed. Allen's intensity was almost completely on the defensive end, though he did chip in with the occasional burst of offense during the season. Allen ultimately became the top guard off the bench.
Season highlight: May 9,2010 -- In a pivotal Game 4 against the Cavaliers, Allen not only provided some lockdown defense on LeBron James, but connected on 6-of-7 shots for 15 points as the bench aided Boston in a 97-87 triumph to even the series at two games apiece.
Season lowlight: Oct. 9, 2009 -- This isn't to say that Allen didn't endure the typical ups and downs of an NBA season, but, amazingly, his only real lowlight really came in the preseason when he aggravated his ankle injury trying to return too quickly against the New York Knicks. From there, it was mostly an upward climb, shining particularly bright in the postseason with his stellar defense against James and Kobe Bryant.
Final grade: B+
Teacher's notes: In the process of doing these report cards, it's been a bit surprising to me to see the lack of quality grades. How exactly do so many players underachieve (at least in terms of expectations) and this team still come six minutes away from a world title? Players like Allen ultimately provided a spark the team desperately needed. Allen said it best during the season when he noted that he's 100 percent behind the Ubuntu mentality now. He simply wants to help the team win and doesn't need to be an offensive superstar -- what he craved when he first came into the league -- to do that.
What's next?: An unrestricted free agent, Allen positioned himself well in a market where money is being tossed around liberally. With each bad contract, you can't help but wonder what Allen's price tag becomes. He's certainly priced himself well above the $2.5 million he made last season. The question is whether Allen, who was quite emotional after Boston's Game 7 loss to the Lakers, will take any sort of discount to return to a setting he's extremely comfortable in. Or will a Western Conference team throw gobs of money at him with his reputation for defense, particularly against Bryant?
Honor roll: Click HERE to read past report cards.
Don't agree with teacher? Just want to sound off on Allen's 2009-10 season? Click HERE to leave a comment.