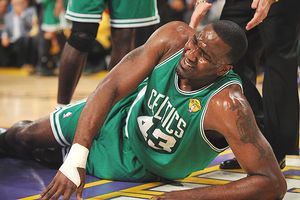 Noah Graham/NBAE/Getty Images
Kendrick Perkins is set for surgery Monday.ORLANDO, Fla. -- Celtics president of basketball operations Danny Ainge said Thursday that Kendrick Perkins will have surgery on his right knee Monday to repair a torn anterior cruciate ligament.
Perkins and the team have delayed surgery this summer in order to allow time to strengthen the muscles around the knee and speed up Perkins' already lengthy recovery. Perkins and Ainge both previously acknowledged that Boston's center could be sidelined into the new calendar year and will miss the start of the 2010-11 season.
"I guess the philosophy is to get more range of motion, help the swelling, strengthen the glutes and the quads -- all that before surgery," said Ainge. "That gives him a quicker recovery. That's what they're doing now, just rehabbing before surgery."
Perkins suffered the right knee injury chasing an offensive rebound in the first quarter of a Game 6 loss to the Los Angeles Lakers in the NBA Finals last month. Speaking with the media the next day, he originally diagnosed himself with a tear of the medial collateral and posterior cruciate ligaments, but further testing revealed the more serious ACL tear.
Ainge said it remains unclear the extent of the injuries to the MCL and PCL, but knows the ACL must be repaired.
"I know there were injuries to the other [ligaments] -- to the MCL and the PCL, but I don't know to what extend they need to be surgically repaired," said Ainge. "They might heal on their own as sprains or strains."
Appearing at a Celtics' charity cruise late last month, Perkins indicated he was originally set for surgery Wednesday, but that's been delayed to Monday for further strengthening.
"I feel good, I've been here, trying to strengthen [the ACL] before I go into surgery," Perkins said last month. "I'm working with [team trainer] Ed [Lacerte] -- a lot of leg work and icing trying to get the swelling all the way down, a lot of treatment before I go in for surgery."
Sources indicated the Celtics were set to ink Jermaine O'Neal to a two-year deal Thursday and he's likely to fill Perkins' void as a starter to begin the season.
Perkins, a seventh-year veteran, averaged 10.1 points, 7.6 rebounds, and 1.7 blocks per game last season as he made another big step in his development.