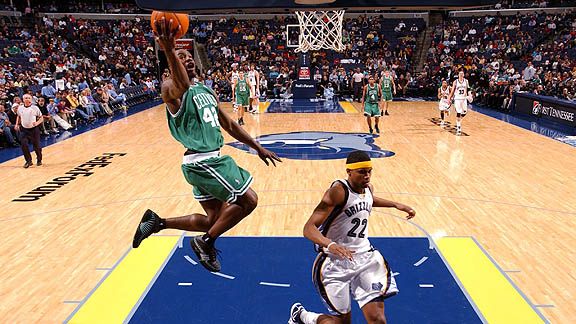 Joe Murphy/NBAE/Getty Images
Tony Allen is taking his talents to Memphis.Offering thoughts and analysis with news that Tony Allen is on the verge of signing a three-year, $10 million deal with the Memphis Grizzlies:
At first blush, it's hard to understand why the Celtics might not have been willing to match such an offer. Maybe Boston didn't want to go that length based on Allen's injury history. Perhaps the Celtics are simply exploring other bench options and couldn't commit to Allen this early.

Regardless, it's bittersweet seeing Allen move on. Tantalizing at times but bafflingly frustrating at others, he could play stellar defense for the game's first 47 minutes, then fall for an upfake at the buzzer and cost his team a victory.

But Allen made great strides in changing his reputation this past season. He went to the altar of associate coach (and defensive guru) Tom Thibodeau and swore the only thing that mattered to him was helping the Celtics win.

True to his word, he expended almost every ounce of energy he had on the defensive end this season, allowing the offense -- once his focal point -- to come to him.

It seemed Allen had finally matured (even if he still loved screaming rap lyrics in the locker room, he at least did it while watching film and receiving treatment on his foot).

He finally got it (Allen often led the cheerleading on the sideline and was always into the game, just waiting for his opportunity to contribute on the floor).

And now he's gone.
Click HERE to read the full story.