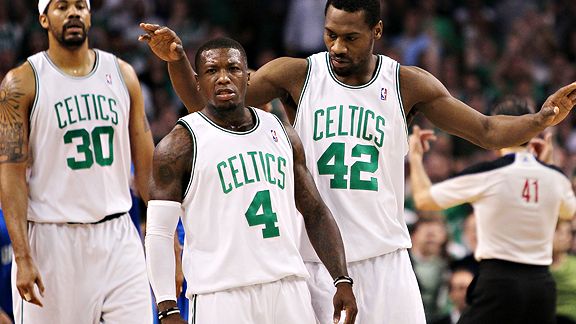 Jim Rogash/Getty Images
With Tony Allen departing, the Celtics might overpay for Nate Robinson to stay.While discussing the early stages of free agency last week in Orlando, Boston Celtics president of basketball operations Danny Ainge expressed a desire to retain the services of reserves Tony Allen and Nate Robinson.
Now that Allen is reportedly set to sign a three-year deal with the Memphis Grizzlies, will the Celtics overpay to bring Robinson back to the Boston bench next season?
Robinson's agent, Aaron Goodwin, suggested to the Boston Herald that the two sides are working toward a deal that could be consummated by week's end.
"Things are going well," Goodwin told the paper. "We're just trying to get something worked out. But both parties are talking."
Robinson's four months in Boston were as much of a roller coaster as his time in New York, the difference being he was never a distraction. Acquired with Marcus Landry in exchange for Eddie House, J.R. Giddens, and Bill Walker, there was a honeymoon period upon Robinson's arrival and he got red hot from beyond the 3-point arc, posting double-figure point totals in three of his fist five games while connecting on 10 of his first 19 trifectas in a Boston uniform.
But Robinson registered just three more games with double-figure scoring the rest of the season, including a 12-point effort in what amounted to a glorified exhibition in the regular-season finale against Milwaukee.
Robinson's playing time evaporated in April and he drew a pair of DNPs, which reportedly cost him a $1 million performance bonus. He played sparingly over the first 16 games of the postseason until a rather unexpected Game 6 outburst against Orlando elevated him back into the rotation for the NBA Finals.
Those final eight games might have re-opened the possibility of Robinson's return and now, with Boston limited by the salary cap, the Celtics might ultimately be forced to pay a little more than they might like to keep the sparkplug around.
Click HERE to read the full story.