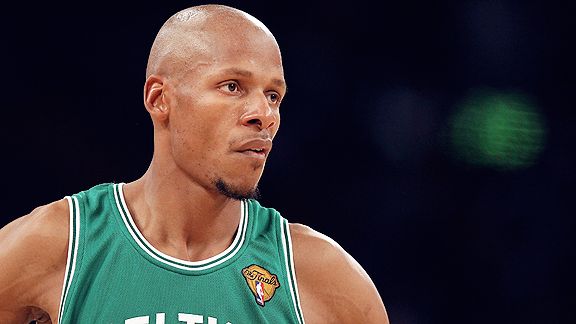 Christian Petersen/Getty Images
Ray Allen got outside interest, but his first choice was to be in Boston.When July 1 arrived and Ray Allen officially became an unrestricted free agent, it hit him for the first time that he might not return to Boston. As teams began calling to express interest, he started at least pondering possible destinations and what it meant for him and his family.
Through it all, Allen remained in contact with the Boston front office, along with his former teammates. Before he could even begin to think about a final decision, Celtics coach Doc Rivers announced he'd be returning to the Boston bench and Paul Pierce agreed to re-sign with the team.
From there, the decision ultimately made itself.
Last Wednesday, on the eve of the first day free agents can officially sign with teams, and before LeBron James even made "The Decision," Allen agreed to a two-year, $20 million contract with the Celtics.
Allen officially inked that deal Tuesday in Waltham.
"LeBron was at center stage of the free-agent frenzy, and as he decided where to go, every other team was waiting -- the ones with salary cap room -- to decide who was second in line and third in line," explained Allen. "I had been talking, obviously, going into the process with the Celtics and [president of basketball operations] Danny Ainge about what was right and what direction the team was going in. We made sure to take care of it early. I didn't want to worry all summer about where I would be and my family."
Click HERE to read the full story.