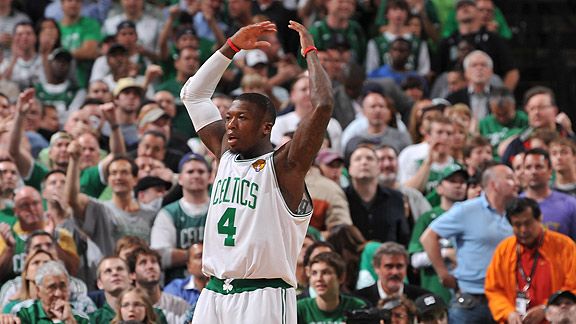 Brian Babineau/NBAE/Getty Images
Nate Robinson pushes the Celtics roster to 11 signed for the 2010-11 season.With Nate Robinson agreeing to re-sign with the Celtics Friday, here's an updated look at the players under contract for the 2010-11 season and how Boston might fill out its roster moving forward.
Players signed for 2010-11 (with salary)
Guards: Rajon Rondo ($9.1 million); Ray Allen ($10 million); Avery Bradley ($1.2 million); Nate Robinson ($4 million)
Forwards: Paul Pierce ($15.3 million*); Kevin Garnett ($18.8 million); Glen Davis ($3 million); Rasheed Wallace ($6.3 million)
Centers: Kendrick Perkins ($4.1 million); Jermaine O'Neal ($5.9 million); Semih Erden ($473,604)
Free agents from the 2009-10 team
Departed: Tony Allen (Memphis); Shelden Williams (Denver).
Unsigned: Brian Scalabrine; Marquis Daniels; Michael Finley.
(Note: Pierce's salary is a best guess, averaging out the reported $61 million over four years, though the Celtics are likely to distribute the money in escalating amounts over the life of the deal. Utilizing the average annual amount, that leaves the Celtics at a rough total of $78.2 million for those 11 players. Boston spent in the neighborhood of $84.8 million last season and is set to pay a hefty $14.9 million luxury tax bill (teams must pay dollar for dollar for everything over the luxury tax threshold, which remains around $70 million this season).
Celtics president of basketball operations Danny Ainge said earlier this week he hoped the team would gets its roster to at least 13 players before training camp, where low-cost options like Oliver Lafayette and Tony Gaffney, who have non-guaranteed contracts, should compete for jobs to fill out what's likely to be a 15-man roster entering the 2010-11 season (particularly with Perkins sidelined for the first half of the season following ACL surgery).
The Celtics are likely to add at least two more minimum contracts, one of which could be second-round draft choice Luke Harangody, who would command the rookie minimum of $473,604. The team is also seeking depth at the wing and an additional big, with veteran minimums ranging from $762,195 (for a second-year player) to $1.35 million (for a veteran with 10+ years of experience).
The biggest uncertainty remains whether Wallace returns or if Boston is able to trade his contract in exchange for a player -- or players -- that can fill a need.