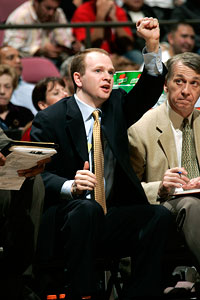 Ned Dishman/NBAE/Getty Images
Lawrence Frank spent six-plus seasons as coach of the Nets before an 0-16 start to the 2009-10 season cost him his job.Could Lawrence Frank be the next head coach of the Boston Celtics?
Frank reportedly agreed to a one-year assistant-coaching contract Thursday, matching the length of time remaining on Doc Rivers' current deal. That will afford Frank the luxury of examining all the available head-coaching jobs after the 2010-11 season.
Could Boston be one of them?
Rivers wrestled with the decision to return this season and could very well walk away next year when his contract expires (though he's hinted since announcing his decision to return this season that he's certainly not limiting himself to one year).
For the sake of argument, say Rivers does walk away; the Celtics are preparing for a large-scale roster overhaul after the 2011-12 season based on the (potential) expiring contracts of Kevin Garnett, Ray Allen, Jermaine O'Neal, Rasheed Wallace, and Nate Robinson (roughly $48 million in expiring deals). There could be some growing pains as there's never a guarantee that available money immediately leads to impact players (just ask the New York Knicks and Los Angeles Clippers).
So maybe Frank spends a year as Rivers' apprentice, gets comfortable with the players, and then takes over the clipboard if Rivers hangs up his whistle. Even if he's hired as simply a bit of a transitional coach, he'd have the opportunity to earn a longer stay. If nothing else, you'd have to think he'd be in the mix if Rivers was to walk away.
Regardless, Frank is regarded as a hard worker and is a proven NBA head coach who took the fall for New Jersey's struggles last season (he was fired after an 0-16 start). His addition should acquiesce any fears some had about losing defensive mastermind Tom Thibodeau.