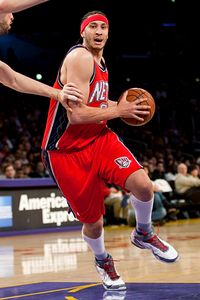 Icon SMI
Need rebounding? Can we interest you in former New Jersey Net Josh Boone?Those growing impatient with the Celtics' lack of impact moves this offseason are probably a little extra fidgety this week as the NBA offseason downshifts from the craziness of the first 10 days of the signing period.
Boston made a flurry of moves at the onset of free agency, agreeing to deals with Paul Pierce, Ray Allen and Jermaine O'Neal, and last week added Nate Robinson to the mix.
Now the team is in wait-and-see mode, both in terms of which players it can lure for veteran minimums (something that might not be dictated until those free agents figure out if they can haul in anything more than that on the open market), and what the Celtics will be able to do with Rasheed Wallace.
You want answers and we'll do our best to give you some, while tackling your questions on Shane Battier, Tracy McGrady, Damien Wilkins, J.R. Smith and Josh Boone (right).
Click HERE to read this week's mailbag.