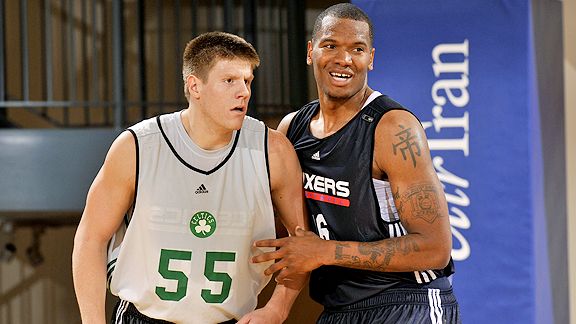 Fernando Medina/NBAE/Getty Images
Luke Harangody impressed during Boston's summer league in Orlando.Who were the stars of the NBA's summer league sessions? The already household names of John Wall, DeMarcus Cousins, and Luke Harangody.
Wait, Harangody?
Boston's un-signed second-round draft choice (No. 52 overall) averaged 16.6 points, 6.8 rebounds, and 1.6 assists per game during the Celtics' five-game slate in Orlando earlier this month and lands at lofty No. 4 on the list of top summer rookies

compiled by Scouts Inc.'s David Thorpe.
He doesn't pass the eye test as far as NBA players are concerned, but he passes everything else. He shot the ball well, rebounded like a beast and played just about as well as any rookie could hope to. I'm not sure he'll play in the NBA at all this season, but he certainly showed that he has a future.
Harangody all but guaranteed his spot on the Boston roster with his play. It seems only a matter of time before the Celtics ink him at the rookie minimum, bringing their roster to the 13 players that Celtics president of basketball operations Danny Ainge said he hoped to get it to before training camp (that, of course, includes Rasheed Wallace, and his possible retirement, but ignores non-guaranteed players like Oliver Lafayette and Tony Gaffney, as well as potential camp invites like Matt Janning).
Harangody played so well it might mark the end of the Brian Scalabrine era in Boston, though the Celtics have by no means finished roster building at this stage of the offseason and, given Kendrick Perkins' injury to start the season, the team won't shy away from adding big bodies.
As Thorpe mentioned, Harangody might be limited in playing time this season, but he showed some interesting potential, and it wouldn't surprise if the four-year college player worked his way into the mix, particularly as injuries crop up.
Click HERE

to read Thorpe's complete rookie rankings.