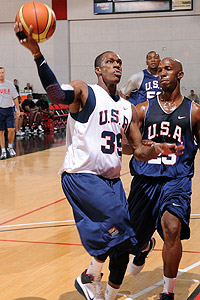 Andrew D. Bernstein/NBAE/Getty
Rajon Rondo has made a strong case to be part of Team USA.Celtics point guard Rajon Rondo gets one more chance Saturday night to lock down his spot on Team USA's roster for the upcoming FIBA World Championships in Turkey. And if you're yearning to watch Rondo in action before the 2010-11 season begins, you've got an opportunity for summer hoops. More from ESPN.com's Chris Sheridan:
LAS VEGAS -- Team USA goes public Saturday night, with an intrasquad scrimmage on ESPN2 and ESPN3 at 10 p.m. ET that will help determine who gets to continue on to training camp in New York, and who gets cut.

The team hierarchy was still saying Friday that the plan is to head into training camp with 14 or 15 players, though it left itself a ton of wiggle room. So don't be surprised if that number is as high as 16 after the cuts are made sometime next week. After four days of practices in which the roster shrunk from 22 to 19 as Amare Stoudemire, David Lee and Robin Lopez were either forced out or withdrew, here is the latest intelligence regarding who is on the bubble, who is close to being on the bubble, and who isn't.
Rondo lands in Sheridan's "not on the bubble" list, a big jump considering he was originally listed as one player who was unlikely to make the cut at the start of the week. Writes Sheridan:
The team will likely take five guards to Turkey, six if you include Durant. His inability to make free throws, or to play shooting guard, is a concern.
Click HERE to read the full story. Hop HERE to check out Sheridan's feature on Rondo from earlier this week.