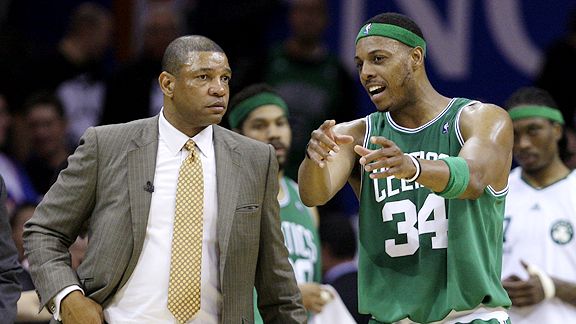 AP Photo/Mark Duncan
Celtics coach Doc Rivers admits he was close to walking away after Game 7.How close was Doc Rivers to walking away from coaching? What role did Paul Pierce and Ray Allen play in his decision? Rivers talked with Andy Katz about why he decided to return:
ORLANDO -- Doc Rivers was so exhausted from the season, mentally drained from how the Boston Celtics lost Game 7 of the Finals to the Los Angeles Lakers, that he was close to telling the Celtics he was ready to take a sabbatical from coaching.

"I was spent," Rivers said Monday night after watching his son Austin play at the AAU Super Showcase at the ESPN Wide World of Sports Complex. "I was most likely leaning heavily the other way -- more because of this," Rivers said, pointing toward his sons Austin and Spencer.

"It was just a tough year, literally a tough year.''

Rivers said when the season ended he was "pretty much done and Danny knew that." Danny is Danny Ainge, the Celtics' general manager and president of basketball operations. Ainge told ESPN.com throughout the lead up to the NBA draft that Rivers needed time to make the decision and the GM said he didn't want Rivers to decide too soon because of how emotionally drained the coach was after the season.

Rivers said he's glad he made the decision to come back for the 2010-11 season, but he had to be sure so he called veteran coaches like Pat Riley and Larry Brown to talk through the process of returning after a grueling season.

"It was very helpful," Rivers said. "They've all been through it."

But Rivers said he wasn't going to come back unless he was certain free agents Paul Pierce and Ray Allen were, as well.

"I wasn't coming back unless they were coming back," Rivers said. "I was first and I thought that was important for them. We all talked. I can tell you that. I made sure. I knew they had to do their business. And Ray scared me a little bit with the money out there. They had said they were coming back and then you see what everyone was getting."

Rivers said that at one point after committing to return next season he called Ainge and said, "Oh my gosh, someone is going to come in and blow them away and [Ray's] going to have to say yes."
Click HERE to read the full story.