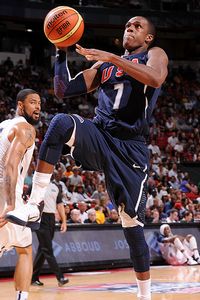 Andrew D. Bernstein/NBAE/Getty
Rajon Rondo drives to the basket for Team USA last week in Las Vegas.Boston Celtics point guard Rajon Rondo survived the first batch of cuts for Team USA and will join the national squad when it reconvenes in New York for its next training camp on Aug. 9
Tyreke Evans, O.J. Mayo, Gerald Wallace and JaVale McGee were the squad's first four cuts. Three more players must be trimmed before the FIBA world championships begin late next month. The team is already guard heavy with six players at that spot. But coach Mike Krzyzewski defended the decision to keep Rondo, who has struggled with his shooting from the perimeter and free-throw line.
"He's unconventionally become an NBA champion and a triple-double guy in this league," said Krzyzewski. "I think he's an adequate shooter for us. He did well shooting the ball in the camp. The thing that Rondo does is he plays with a will to win, and he just finds ways to have a positive impact on the game. I really like that about him.
"I thought I developed a really good relationship with him during the week, and his pressure on the ball, defense, but his will to win is something that I truly admire, and we need that. Plus he's a little bit older with the -- not in age as much -- but with experience because the Celtics have gone so deep and have won one of the recent NBA championships. So I think we're very fortunate to have him."
More on Team USA's first cuts from ESPN.com's Chris Sheridan:
More cuts are ahead, as the U.S. federation must submit a 12-man roster Aug. 26 -- two days before the Americans open pool play against Croatia in Istanbul, Turkey, at the World Championship.

The cuts left the team with six guards (Derrick Rose, Chauncey Billups, Russell Westbrook, Rajon Rondo, Stephen Curry and Eric Gordon); four wingmen (Kevin Durant, Andre Iguodala, Rudy Gay and Danny Granger); three power forwards (Lamar Odom, Kevin Love and Jeff Green); and two centers (Tyson Chandler and Brook Lopez).

"Certain players were told that they are right on the bubble and New York is important to them in terms of making the final roster," USA Basketball chairman Jerry Colangelo said.
Click HERE to read more.