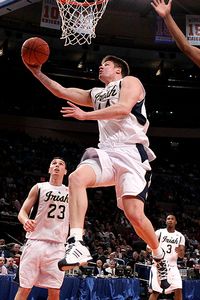 Jim McIsaac/Getty Images
Luke Harangody returned to Notre Dame to offer his words of encouragement to summer campers.Luke Harangody, the Celtics' second-round draft choice (No. 52 overall) last month, is reportedly flying into town Thursday to join the team, according to WNDU, and it would seem logical to expect that a rookie contract could be inked soon.
Harangody returned to the Notre Dame campus where he starred for four seasons to speak at Irish coach Mike Brey's summer camp Wednesday. While he's not officially a member of the Celtics until he signs his deal, the folks at Notre Dame were already celebrating his leap to the pros.
In an interview posted on the school's Web site, Harangody talked about his summer league exploits (including the gash below his left eye from an elbow he caught), being drafted by the Celtics and his message to the Notre Dame campers. Harangody mixed confidence and humbleness while talking about proving himself during Boston's five-game summer slate in the Orlando earlier this month.
"I definitely think I opened some eyes," Harangody told the school's Web site. "The members of the Celtics' staff, they really knew what I can do, so that wasn't a surprise. But some people out there didn't know the kind of ability I have. Like I said [in Orlando], it's always nice to prove those people wrong."
Harangody knows he can't rest on the laurels of his strong summer play.
"There's still a lot of work to do," said Harangody. "The summer league is one thing. Now the real job begins and you have to work every day."
Harangody, who was born in Illinois and played high school ball in Indiana, said growing up he was a Bulls fan based on his hometown, but was familiar with Celtics' lore being raised in the state that bred Larry Bird.
Click HERE for more from UND.com.