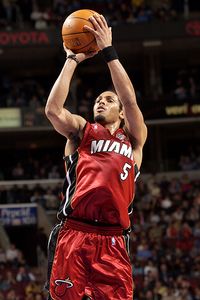 Jesse D. Garrabrant/NBAE/Getty
Doesn't look quite right without the headband, but Eddie House will be back in a Heat jersey next season.Some quick thoughts after the Miami Heat signed guard Eddie House to a two-year, $2.8 million deal Thursday:
This adds another nice layer to a budding Celtics-Heat rivalry (but one that will only truly blossom on the court). I'm a little surprised to see such a negative reaction towards House, but I suppose that's to be expected whenever a former fan favorite signs with the enemy. While not quite Johnny Damon in pinstripes, it's a friendly reminder that fans root for the laundry. House probably won't get serenaded with the same roar and JumboTron kisses he received after returning to the Garden with the Knicks last season.

Let's remember that it's not like House chose Miami over Boston. From all indications, the Celtics' interest in House (which wasn't exactly overwhelming to begin with) expired when the team re-signed Nate Robinson earlier this month. Boston certainly covets some additional outside shooting, but it could someone with better size and defense from the player it brings in to fill a reserve role behind Ray Allen (and Paul Pierce).

It's impossible to write House off after just one down season, particularly considering two years ago he broke the Celtics' single-season record for 3-point percentage at 44.4 percent (151-for-340 behind the arc). But the fact remains he was a dismal shooter in 2009-10, connecting on just 34.8 percent of shots from beyond the arc (the lowest since his first two seasons in the league; ironically, in Miami), and 38 percent overall fro the floor (second lowest of his career) over 68 games between Boston and New York. House connected on 79 3-pointers overall, which was three less than Rasheed Wallace made during the year. House should get quality looks next season considering the offensive weapons the Heat now boast.