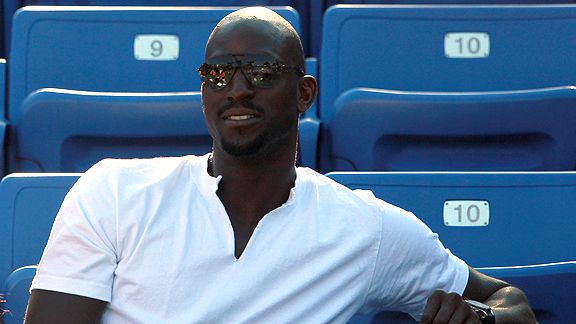 Jeff Gross/Getty Images
Kevin Garnett takes in some tennis action this offseason.Kevin Garnett is no stranger to the tennis circuit. Rarely does an offseason pass without him being snapped attending a big event (like the Countrywide Classic in 2008 and 2007).
Earlier this week, Garnett was spotted watching good friend James Blake at the Farmers Classic in Los Angeles. From the L.A. Times:
While his enthusiastic tennis play roused the crowd at the Los Angeles Tennis Center, Blake might want to keep quiet about one of his other passions — the Boston Celtics. Celtics center Kevin Garnett was in the crowd Thursday rooting for Blake.

Blake said he and Garnett became friends when Garnett came to the U.S. Open a couple of times. "I've been to a bunch of Celtics games," Blake said. "I saw them beat the Lakers at [Boston] Garden and it's been so much fun. His intensity on court, that's something really exciting to watch. He and Ray [Allen] and Paul [Pierce], I hope they can do it again next year."
If you want to hang out with Garnett and tennis isn't your game, you can hop a flight to Beijing this weekend. Garnett, who is headed overseas to ink a new sneaker deal with ANTA, is hosting a party there Sunday night, according to these promotional posters (1,2)
(h/t: CelticsTown, Boston.com)