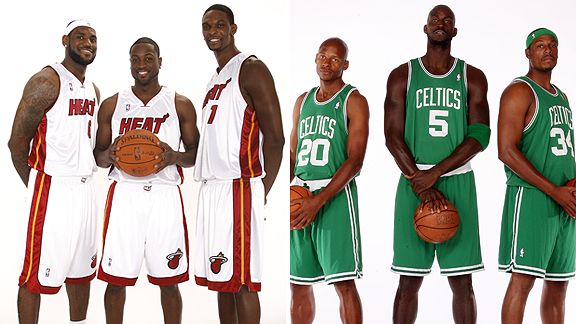 Getty Images
New Big Three vs. Old Big Three. Make it happen, NBA.The Boston Celtics have opened the last two NBA seasons against LeBron James. Why mess with what works?
On Tuesday night, the NBA's opening week and holiday schedule will be unveiled in a special hourlong program on NBA TV (a page right out of James' playbook).
Officials shouldn't even think twice about the Eastern Conference matchup to kick things off: Celtics vs. Heat. New Big Three vs. Old Big Three. Defending conference champs vs. preseason favorite to win the conference title.
It doesn't matter the location, South Beach or Southie. Just make it happen. The Celtics haven't been bashful this offseason in sharing their opinions of James and his Super Friends, so put the two teams on center stage to tip off the season and let this rivalry truly blossom on the court.
"They should be good, but they ain't done nothing yet," Celtics guard Rajon Rondo told Yahoo! Sports during Team USA's training program in Las Vegas last month.
"Miami looks really good on paper and I'm sure they're going to be really good," Rondo added. "But they still have to come together as a team. I'm not saying they won't, but who knows if those guys can jell?"
Click HERE to read the full story.
Update: A report from the Sports Business Journal indicates that the Magic will christen their new $480 million Amway Center by hosting the Heat on opening night. If it's true, a huge win for the state of Florida.