SLAM Online provides a nice Q&A with Celtics guard Nate Robinson from his youth basketball camp in Mercer Island, Wash. Robinson spends much of the interview talking about his camp and the Seattle basketball scene, but this part stood out: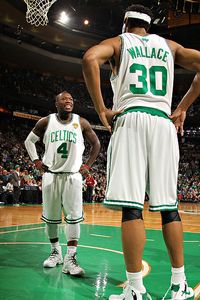 Nathaniel S. Butler/Getty
Nate Robinson thinks Rasheed Wallace might have returned if Boston won a title last season.SLAM: After Game 7 of the Finals, Kevin Garnett said that Rasheed Wallace came into the locker room and gave his thanks and regards and that it was very emotional.
Nate Robinson: It was. Sheed is one of my all-time favorites, regardless of the techs. He speaks his mind and that is what I love about him. I have so much respect for him because if something isn't right, he will let you know. He's like that all the time. That was the one person who I would look to for advice and he always gave me his honest opinion whether I liked it or not. As a player he worked everyday. He came in and shot early, leave late. The main thing about him is he wanted to win. He has a ring but wanted to go out with a bang. We tried to go out with a championship but unfortunately we didn't. The speech that he gave, saying stuff like he wouldn't of had it any other way besides going to war with the guys that were in that locker room with us. It touched everybody. We were heartbroken that we didn't win it for him. Of course I wanted to win my first championship but I wanted to win because I have looked up to Sheed since college. I played against his AAU team in Philly. My mom used to do his wife's hair—my mom is a hair stylist. So I've known Sheed for a while, since I was real young. Playing alongside him was awesome. It was a dream come true. I just wish the tables were turned and we would have won that championship because I honestly believe if we would have won, Sheed would have played another year. One more year with Sheed.
Click HERE to read the full Q&A.
(h/t: Celtics Twitter)