The Boston Celtics made the signing of Von Wafer official Tuesday, inking the shooting guard to a one-year deal at the veteran minimum.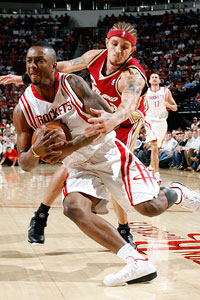 Bill Baptist/NBAE/Getty
New Celtic Von Wafer slides past former Celtic Delonte West.Here's the full press release from the team:
BOSTON, MA – The Boston Celtics announced today that they have signed guard Von Wafer. Per team policy, terms of the deal were not disclosed.

Wafer, a 6-5 guard, has posted NBA career averages of 6.2 points and 1.3 rebounds in 13.3 minutes per game. Originally drafted by the Los Angeles Lakers with the 39th overall pick in the 2005 NBA Draft, Wafer posted his best statistical season when he was with Houston for the 2008-09 campaign. He posted career-highs with 9.7 points and 1.8 rebounds in 19.4 minutes per game. He also shot a career-high 39.0 percent from three-point land. Wafer made 11 starts for the Rockets during that season and he averaged 16.4 points, 2.7 rebounds and 1.7 assists in those contests.
After agreeing to terms last week, Wafer told HoopsWorld: "I was talking to Coach Rivers during our meeting and he was like, 'Von, we only have the minimum to offer.' I told him, 'Coach, it doesn't matter. I'll sign for whatever, anything. I'm just hungry right now. I really didn't want to tell people that because they've heard it a million times but I really am so hungry and I have so much to prove. I can't let that be the last time people heard from me, going out with Olympiakos. I take a lot of pride in my game and what people think of me and I don't want that to be how I'm remembered. I've got to write another chapter."
Wafer flew to Boston Sunday and apparently passed his physical, no small feat considering he reportedly failed such an exercise with the Houston Rockets last year.
The signing of Wafer brings Boston's roster to 13 players under contract for the 2010-11 season.
Click HERE for more on Wafer.