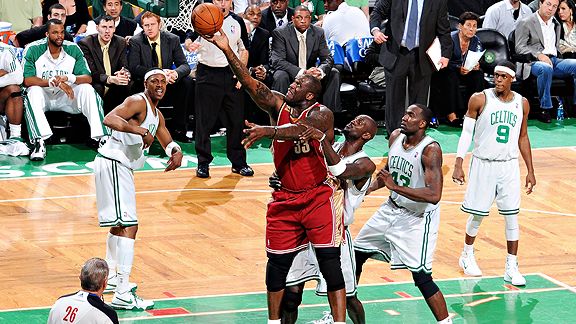 Jesse D. Garrabrant/Getty Images
Shaquille O'Neal goes to the basket against the Celtics during last season's playoffs.Free-agent center Shaquille O'Neal will likely sign with the Boston Celtics, as soon as Tuesday night or Wednesday, sources told ESPN The Magazine's Chris Broussard.
O'Neal had said earlier Tuesday that he hopes to make a decision about his future soon. Comcast SportsNet New England first reported Tuesday the Celtics are close to inking O'Neal.
"For me, it's been a real thinking process," O'Neal told the Associated Press on Tuesday from Orlando, where he was promoting his television series, "Shaq Vs.," with teen pop star Justin Bieber. "I came into the league very graciously and want to go out very graciously. My main thought was I would like to play for a winning franchise, somebody that's used to winning, somebody that keeps winning. Hopefully, I'll make my decision here in the next one or two days."
The Celtics can offer only the veteran minimum salary ($1.35 million for a veteran of 10-plus NBA seasons), but Cleveland could facilitate a sign-and-trade with Boston if the 38-year-old center requires more money. O'Neal has made nearly $291 million in basketball contracts alone, including $20 million with the Cavaliers last season.
Click HERE to read the full story.