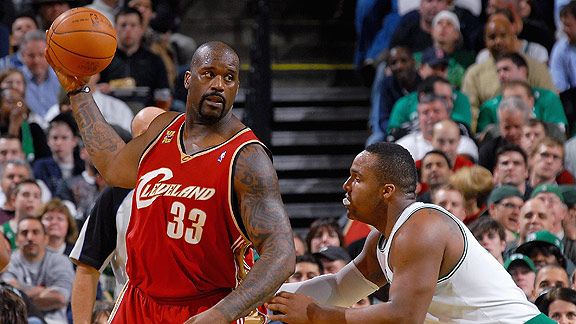 Brian Babineau/NBAE/Getty Images
Shaquille O'Neal and Glen Davis could share a Boston frontcourt next season.Happy now, Paul Pierce?
Shortly after opting out of the final year of a bloated contract to sign a team-friendly, four-year, $61 million deal last month, Pierce expressed disappointment in the lack of impact moves being made by Boston Celtics president of basketball operations Danny Ainge this offseason.
Boston quietly retained Pierce, Ray Allen, Marquis Daniels and Nate Robinson -- a fine offseason haul to most -- but the lack of big-name additions as much of the Eastern Conference loaded up left Pierce leery of his team's chances to get back to the NBA Finals.
Sure, the Green inked Jermaine O'Neal, utilizing its midlevel exception, but that was considered a move of necessity given that starting center Kendrick Perkins will miss as much as the first four months of the regular season after having offseason knee surgery. Even when Perkins returns, O'Neal could fill the role vacated by Rasheed Wallace, who the team insists still intends to retire.
Little more than a month after free agency began, amid a picked-clean free-agent crop, the Celtics seemingly made their big-splash move Tuesday, as sources indicated to ESPN.com that Boston is close to an agreement with free agent center Shaquille O'Neal.
Yes, O'Neal is 38. Yes, his game has diminished. But the Celtics appear set to add a four-time NBA champion and a 15-time All-Star to a roster that came six minutes shy of winning a world title this past season.
Click HERE to read the full story.