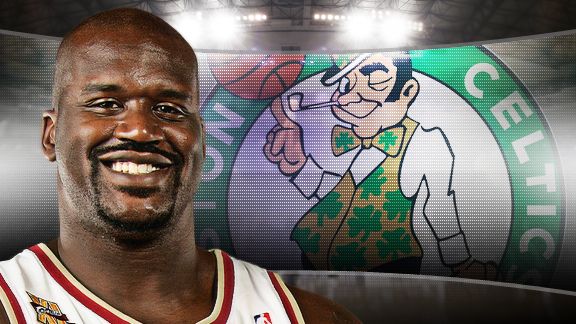 ESPN.com Illustration
The Celtics have officially inked Shaquille O'Neal.The Boston Celtics officially announced the signing of free-agent center Shaquille O'Neal Wednesday afternoon. According to the team, he'll wear No. 36.
Here's the full release from the team:
BOSTON, MA – The Boston Celtics announced today that they have signed free agent center Shaquille O'Neal. Per team policy, terms of the deal were not disclosed.

"It is not every day that you can add a player of Shaquille's caliber to your team," said Danny Ainge, Celtics President of Basketball Operations. "His past experience speaks for itself and we believe that he is a great fit for our roster."

O'Neal, a 7'1" center, posted averages of 12.0 points, 6.7 rebounds, 1.2 blocks and shot 56.6% from the field last season in 53 games for the Cleveland Cavaliers. The former Louisiana State Tiger is a three-time NBA Finals MVP (2000, 2001, 2002) and former NBA MVP (2000). He has been named to 15 All Star games and also has been named All-Star Game MVP three times. His 15 All-Star appearances are the second most all-time behind Kareem Abdul-Jabbar's 17. He is a member of four NBA Championship teams (3, Los Angeles Lakers, 2000, 2001, 2002; 1, Miami Heat, 2006). One of the 50 Greatest Players in NBA history (he was youngest member of this team, at the age of 24, when it was named in 1996), O'Neal also is one of just three players in NBA history to be named league MVP, All-Star Game MVP and Finals MVP in the same season (1999-2000).

"I am honored to be joining the Celtics," said O'Neal. "I have played against Paul, Ray, Kevin, Rajon, and Jermaine for many years and it will be great to be able to call them my teammates. I cannot wait to get to Boston to get started in pursuit of another championship."

The first overall pick in the 1992 NBA Draft by Orlando, O'Neal has posted career averages of 24.1 points, 11.0 rebounds and 2.3 blocks per game. He also has appeared in 214 career playoff games with averages of 24.5 points, 11.7 rebounds and 2.1 blocks. O'Neal is the fifth leading scorer in NBA history (28,255 points) and is 14th in NBA history in total rebounds (12,921).
Click HERE for more on Shaq and the Celtics.