With the addition of Shaquille O'Neal, the Celtics' roster has bloated to 14 players under contract for the 2010-11 season, one fewer than the maximum (with second-round draft choice Luke Harangody still unsigned). Here's a look at where Boston currently stands:
Players signed for 2010-11 (with salary)
Guards: Rajon Rondo ($9.1 million), Ray Allen ($10 million), Avery Bradley ($1.2 million), Nate Robinson ($4.2 million), Von Wafer ($915,852)
Forwards: Paul Pierce ($13.9 million), Kevin Garnett ($18.8 million), Glen Davis ($3 million), Rasheed Wallace ($6.3 million), Marquis Daniels ($2.5 million)
Centers: Kendrick Perkins ($4.6 million), Jermaine O'Neal ($5.9 million), Shaquille O'Neal ($1.4 million), Semih Erden ($473,604)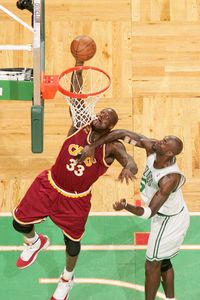 Nathaniel S. Butler/Getty
The addition of Shaquille O'Neal pushes Boston's roster to 14 players under contract for next season.
Free agents from the 2009-10 team
Departed: Tony Allen (Memphis), Shelden Williams (Denver)
Unsigned: Brian Scalabrine, Michael Finley
Other players in the mix
Nonguaranteed contracts: Oliver Lafayette, Tony Gaffney
Invited to camp: DeShawn Sims
(Note: HoopsHype recently updated its salary database to include a four-year breakdown of Pierce's extension that the site suggests pays annually as follows: $13.9 million, $15.3 million, $16.8 million, $15.3 million. There are some slight differences in its numbers with our friends at ShamSports, but that might be related to projected bonuses.)
Those 14 contracts put Boston at a rough total of $82.3 million so far. Boston spent in the neighborhood of $84.8 million last season and received a hefty $14.9 million luxury-tax bill. (Teams must pay dollar for dollar for everything over the luxury-tax threshold, which remains around $70 million this season.)
The team still has to sign second-round draft choice Harangody (likely for the rookie minimum of $473,604), but that would temporarily max out the roster at 15 bodies, which seemingly would leave Lafayette and Gaffney on the outside looking in as they prepare to compete for jobs at training camp. However, there still remains the unsettled situation surrounding Wallace and whether he will retire, or whether Boston will use his contract as potential trade bait before that happens. If Wallace departs, it could free up a roster spot heading into camp.
The Celtics seemingly would want at least one open spot to promote camp competition. Boston cannot simply wait on Harangody because second-round draft choices that do not receive a required tender become free agents by Sept. 6.
Northeastern standout Matt Janning, who received a camp invite with the Celtics, signed a multiyear deal with the Phoenix Suns on Wednesday, bringing some security to his future.