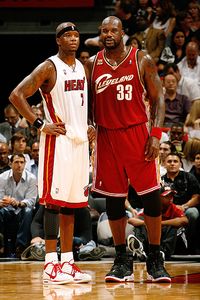 Issac Baldizon/NBAE via Getty
Which O'Neal will average more points next season, Shaq or Jermaine?As sports business guru Darren Rovell pointed out, oddsmaker Bodog.com set the opening lines for Shaquille O'Neal's stats next season at 10.5 points and 6.5 rebounds.
Which begs the question: Would you take that sort of production from O'Neal?
Shaq averaged 12 points and 6.7 rebounds over 23.4 minutes per game in 53 regular-season appearances (all starts) with the Cleveland Cavaliers. While we made the case today why O'Neal could start in Boston, it's likely much of his time will be spent in a reserve role. So, given the fact that he might log 15-20 minutes per game, wouldn't those stats be well worth the $1.4 million price tag?
If nothing else, it's a clear upgrade over the 3.7 points and 2.7 rebounds averaged last season by Shelden Williams. Heck, you can combine last season's averages for both Williams and Glen Davis and you barely get Shaq's predicted production.
The site also offers a bet about which O'Neal will average more points this season, Shaquille or Jermaine. Shaq gets a 1.5-point cushion, too, which suggests the oddsmakers pegs Jermaine around 12 points per game next season.
(A friendly reminder that this blog doesn't condone sports betting, but it's always fun to examine Las Vegas' take on matters).