Guiseppe Barranco/The Beaumont Enterprise
Kendrick Perkins and former teammate Sam Cassell at Perkins' youth basketball camp in Texas.Celtics center Kendrick Perkins is hosting his first youth basketball camp on the campus of his old stomping grounds at Clifton J. Ozen High School in Beaumont, Texas this week and has NBA friends like Rajon Rondo, Nate Robinson, Lester Hudson, and Sam Cassell in town to help guide the sessions.
With the buzz back in the Hub about the signing of Shaquille O'Neal, we reached out to the sports staff at the Beaumont Enterprise to see if they could get reaction from the Celtics players on hand and reporter David Henry filed a report from Thursday's opening day of the camp (you can also check out a gallery of photos from photographer Guiseppe Barranco).
Henry relayed this gem of a quote from Nate Robinson:
"It's going to be fun," said Robinson. "Things are going to be bonkers, but in a good way. We're just waiting to see how it is."
It's somewhat interesting that Perkins declined comment on Shaq. Perkins and O'Neal went to war during the Eastern Conference semifinals when Boston knocked Shaq, LeBron James, and the top-seeded Cleveland Cavaliers out of the postseason in six games.
Perkins name was omitted from the list of players Shaq mentioned in a quote in a press release to announce his signing. To be fair, it's not like he could thank the entire 15-man roster, and the ones he did point to are likely to comprise the starting 5 at the beginning of the 2010-11 season.
"I am honored to be joining the Celtics," O'Neal said in the statement. "I have played against Paul [Pierce], Ray [Allen], Kevin [Garnett], Rajon [Rondo], and Jermaine [O'Neal] for many years and it will be great to be able to call them my teammates. I cannot wait to get to Boston to get started in pursuit of another championship."
Perkins did say that his recovery is going well. From Henry's story:
Perkins didn't look like he just had surgery. He had no crutches or a noticeable limp when he walked.

"I feel really good - everything is going well so far," Perkins said. "I can't wait to come back [to the Celtics]."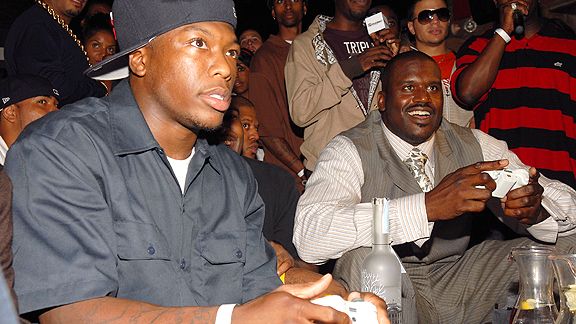 Ray Tamarra/Getty Images
Nate Robinson said the addition of Shaquille O'Neal will be "bonkers, but in a good way."