Chicago Bulls head coach (and former Celtics top assistant) Tom Thibodeau appeared on ESPN Radio in Chicago

on Friday and offered his take on Boston's signing of free-agent center Shaquille O'Neal.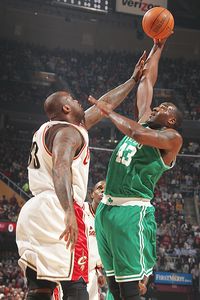 Nathaniel S. Butler/NBAE/Getty
Shaquille O'Neal tries to block the shot of new teammate Kendrick Perkins during the playoffs.
"It's an interesting move," said Thibodeau. "It's a calculated risk. I think there are things he brings to the table. I think the big thing is with [Kendrick] Perkins being out until January, and you never know how long it will take when he does come back, Perkins is a very underrated player. I think he's a huge key to the team defense. So I think what they're doing is trying to protect themselves until Kendrick can come back.

"Shaq is a guy you can throw the ball to. He can still get a pretty good shot up. His size is a factor. You start looking at their length up front now. They added a couple 7-footers with Jermaine O'Neal. He really had a terrific season last season with Miami, so they added some shot-blocking there. I think part of it is trying to hold the fort until Kendrick can come back, but when he does come back, you're going to have three guys at the center position, so that could be tough.

"I think he does add some things to their team."
Click HERE

to listen to the full interview.