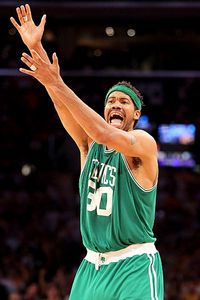 Ronald Martinez/Getty
Rasheed Wallace and the Celtics have agreed to a mutual buyout after one season.The Boston Celtics officially waived Rasheed Wallace Tuesday, agreeing to a mutual buyout as Wallace prepares to retire from basketball after a 15-year career.
"We would like to thank Rasheed for everything that he did for this team and organization last season," Celtics president of basketball operations Danny Ainge said in a statement released by the team. "We would like to wish Rasheed and his family the best as they move on into the next phase of their lives. He will always be a member of the Celtics family."
Earlier Tuesday, Ainge hinted at a Wallace buyout and, having shown their hand, the Celtics moved forward with that plan.
Wallace walks away from two years and $13 million remaining on a three-year deal he inked last offseason. Ainge admitted the team tried to facilitate a trade utilizing his deal, but, in the end, settled on a move that freed up a roster spot after the team reached the maximum 15 players with Tuesday's signing of second-round draft choice Luke Harangody.
It will be interesting to see if the team now moves swiftly to fill that spot with a veteran free agent (both Ainge and coach Doc Rivers suggested Tuesday they would like another shooter off the bench), or whether the team simply keeps a spot open moving forward and waits for the ideal body (Rivers did suggest the team could always wait into the regular season before making that move).
Some had hoped the Celtics might move Wallace in exchange for a proven swingman to backup Paul Pierce and Ray Allen, but Boston clearly couldn't find a likable deal in the trade market. Hope springs eternal in the offseason, and few teams would be looking to clear cap space at this point.
So Boston ultimately eats a bit of salary to facilitate Wallace's retirement and now has the flexibility to polish off its 15-man roster with training camp set to open in late September.