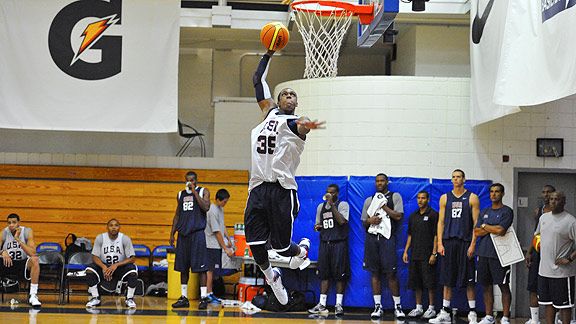 Jesse D. Garrabrant/NBAE/Getty Images
Rajon Rondo prepares to dunk during Team USA's practice Tuesday in New York.Rajon Rondo and Team USA got back to work Tuesday in New York City. Rondo got snapped ready to throw down this one-handed jam and, better yet for Celtics fans, he didn't land on the injury report following the session.
Back in Boston, Celtics coach Doc Rivers said Tuesday that he encouraged Rondo to compete for the national team this summer despite coming off a season in which he appeared in over 100 games (regular season and postseason combined). Rivers pointed to the fact that Rondo is only 24 years old and is comfortable with him playing the 15-20 minutes per game that coach Mike Krzyzewski suggested he'd play at the FIBA World Championships in Turkey (Rivers did jokingly tell Krzyzewski that he could play Chicago's Derrick Rose upwards of 40 minutes per game).
Rivers also noted that Team USA will incorporate some defensive schemes that the Celtics plan to integrate next season, so he thinks the experience will actually help Rondo prepare for the 2010-11 season.
Even Shaquille O'Neal singled out Rondo while talking about the Celtics Tuesday, saying, "Rondo just took his game to a whole new superstar level [last season]."
Rivers said he'd like to see Rondo improve on his free-throw shooting this offseason, nothing that's a bigger priority over even his outside shot because being a more consistent free-throw shooter will prevent Rondo from being discouraged in driving to the basket.
(Update: Rondo will miss Team USA practice Wednesday because of a death in his family, according to the Associated Press. He is expected to return Thursday.)
USA Basketball
Team USA is using Rondo to promote the upcoming world championships.