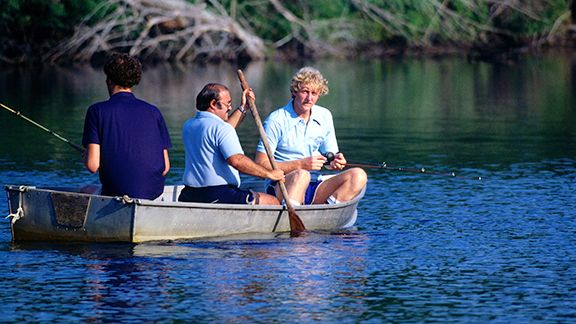 Dick Raphael/NBAE/Getty Images
Larry Bird found time to go fishing during Boston's rookie camp in 1979.After 10 dizzying months chronicling the Celtics during their run to the NBA Finals and straight into a wild offseason, we're downshifting in this space for just a few days while sneaking in a small vacation (which Shaquille O'Neal's introduction already blitzed earlier this week).
For the next week or so, the plan will be to check in when able (typically an early morning post or a nightly wrap-up of the day's top headlines), but we'll certainly ramp up the activity should there be any breaking news around the team.
This brief pause allows us to reflect for a moment on how far the site has come in a short time. While there's still plenty of room for growth, we do want to thank everyone that's made ESPN Boston a stop on their internet travels for Celtics coverage. Consider the comments section of this post your chance to offer feedback on anything you'd like to see more of in this space moving forward (and on the site in general). You can also ship your thoughts to the Mailbag (which will resume next week).
A quick rundown on Wednesday's headlines: