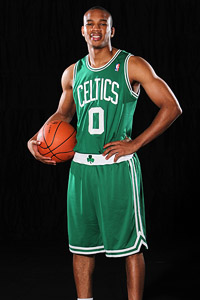 Joe Murphy/NBAE/Getty
Celtics rookie Avery Bradley should be practicing full speed again soon.Putting on a Celtics jersey for the first time Tuesday felt good to Avery Bradley. Putting on basketball sneakers for the first time in a while felt even better.
Bradley, Boston's first-round pick (19th overall) in the 2010 NBA draft, donned the full Boston uniform for the league's rookie photo shoot Tuesday at the MSG Training Facility in Tarrytown, N.Y.
Bradley underwent arthroscopic surgery on his left ankle on July 2, the same day he inked his rookie deal with the Celtics, and has been recovering ever since with eyes toward being in full health when Boston's training camp opens late next month.
"It's the first time I've put on basketball shoes in a while," Bradley told ESPN.com during a break in the action Tuesday. "But it's the first time I've put on the jersey, and it feels good to have 'Boston' and my name on the back. It's cool."
Click HERE to read the full story.