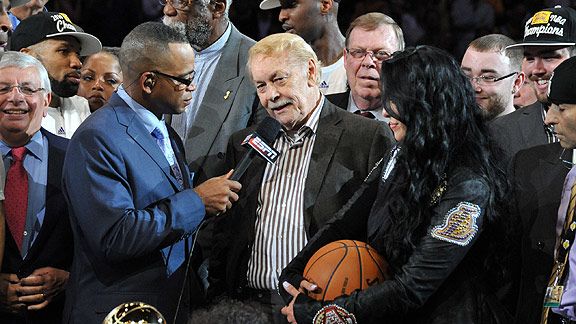 Jesse D. Garrabrant/NBAE/Getty Images
Dr. Jerry Buss celebrates the Lakers' title victory over the Celtics in June.ESPN Los Angeles' Dave McMenamin caught up with Lakers owner Jerry Buss Tuesday and the 76-year-old boss (and Hall of Fame inductee last week) engaged in some quality Boston-related chatter after discussing his own team's offseason moves and his thoughts on the Miami Heat.
* On Shaquille O'Neal signing with the Celtics: "I think there's a lot of rivalry and a lot of emotions in these things. Shaq and Kobe [Bryant] have a little thing going as to who wins the most rings and so Shaq signing with Boston sets up a potential showdown. I like the drama, I think it's fabulous. You can't help but love Shaq. He's still Shaquille O'Neal. He's still a very funny man, sometimes he gets a little carried away in his analysis of former employers, but outside of that he's quite a guy and we look forward to [playing Boston]."

* On the renewed rivalry with Boston after facing the Celtics in the Finals twice in the last three seasons: "From the very beginning, the Boston thing to me was the real issue because I was a big fan of the Lakers and sat through all those miserable moments when Jerry West and Elgin Baylor and even Wilt Chamberlain were getting beat and we came so close in those days, so very, very close and the frustration as a fan was terrible. And so, when I bought the Lakers, that was obviously upper most in my mind -- we've got to catch up and do to them what they did to us. And so, Boston has always been very special and beating them is always and forever will be special."
Click HERE to read the full story.