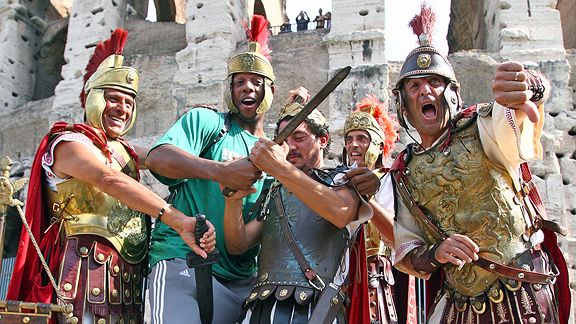 Garrett W. Ellwood/NBAE/Getty Images
Paul Pierce in front of the Coliseum in Rome during Boston's 2007 preseason visit.After inking a four-year contract extension this offseason, Celtics captain Paul Pierce celebrated the fact that the new deal will allow him to retire in a Boston uniform. Just don't bank on a farewell tour during the 2013-14 season, it might come sooner than that.
In an interview with Comcast SportsNet's Greg Dickerson this week at his Boston basketball camp, Pierce suggested he's going to play "three or four" more seasons and the language of his new contract appears to leave an opportunity for him to walk away from the NBA after the 2012-13 campaign.
According to the supremely helpful salary database at ShamSports.com, Pierce's four-year contract is set to be paid out in escalating increments of $13.9 million next season, $15.3 million in 2011-12, and $16.8 million in 2012-13 before dipping back to $15.3 million in 2013-14.
The final season is only $4 million guaranteed, becoming $5 million if Pierce participates in 50 percent of Boston's games (regular season and playoffs) over the preceding three seasons, according to a note on the site. The deal is fully guaranteed if Pierce is not waived on or before June 30, 2013.
The language suggests the Celtics can swallow what would likely be a $5 million cap hit for the 2013-14 season in order to allow Pierce to ride off into the sunset a little earlier. Pierce will be 35 after that 2012-13 campaign with 15 seasons of NBA mileage on his tires.
Celtics president of basketball operations Danny Ainge has positioned his team to keep the current core intact over the next two seasons, then undergo a massive overhaul -- likely building the team around Rajon Rondo -- after the 2011-12 season. Pierce could stick around for the first year to aid that transition process, then examine the team's potential to continue winning and his own health in deciding about a 16th (and almost certainly final) NBA season.
Pierce did suggest in the same interview that he'd like to venture overseas for a couple more years of basketball even after his NBA career is over.
"I think this is going to be it for me," said Pierce. "After these three or four years that I'm going to play, then I think that's going to be it for the game of basketball. I put so much into this game. As far as retiring from the NBA, I think I will be done after this contract because, eventually, I want to go overseas and play and live for a couple of years. That's why this is a big contract for me, knowing I'm going to retire a Boston Celtic. I want to go to either Italy or Greece for a year. I think I want to be able to bring my family over to just kind of share a different experience overseas for a couple of years, before I settle into retirement."
Italy, of course, is where "Ubuntu" was born for the Celtics after the team traveled there before the 2007-08 championship season, just months after the Big Three of Pierce, Ray Allen, and Kevin Garnett were assembled.
(h/t: CelticsBlog for Pierce quote transcription)