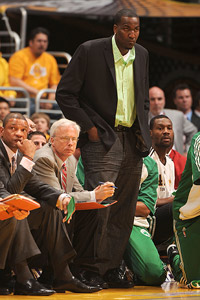 Andrew D. Bernstein/NBAE/Getty
Kendrick Perkins watches the action in Game 7 of the NBA Finals.Celtics center Kendrick Perkins remained mum in the days following Boston's addition of Shaquille O'Neal. But speaking to the Boston Globe's Gary Washburn on Friday, Perkins said all the right things in regards to Shaq and comments by president of basketball operations Danny Ainge, who suggested Perkins would have to work to earn his starting job back once healthy.
"I thought [Shaq] was a great pickup for what we got him for," Perkins said by phone from Texas. "Shaq is a Hall of Famer. He can always help us. I think it was a great pickup. I am glad that he is on the team. We just got one goal, and that's just trying to win the ring."

Team president Danny Ainge said last week that Perkins would have to work to regain his starting spot in the lineup when he returned to full health. Perkins said he is not intimidated by that challenge.

"I don't see it threatening me at all," he said. "I gotta work hard. I know I gotta fight to get back to where I was. It's no problem with me. Hard work is not a problem."
Perkins and O'Neal have gone to war plenty of times in recent years, most recently with Perkins needing stitches to his lip after tasting an O'Neal elbow during the Eastern Conference semifinals in May. Shaq did his best to squash any notion of bad blood during his introductory press conference earlier this month.
"Perk is a very tough defender, probably one of the best big defenders in the league," said O'Neal. "It was only on-the-court-battles and marketing. He's a guy that's not going to back down, I'm not going to back down. So I think if anything it was good for TV.
"Now, being on the same team, I will give him all the knowledge I have accumulated over the past 18 years. Have we had battles? Of course we have. Have we had good battles and bad battles? Of course we have, but that's all over now because we're teammates."
Perkins also told the Globe he's hoping for a late January return, which would be more optimistic than the February date that Ainge and others have suggested.