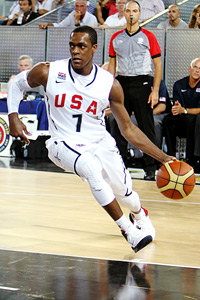 Nathaniel S. Butler/NBAE/Getty
Rajon Rondo drives to the basket against Lithuania Saturday.In its first international exhibition before the 2010 FIBA World Championships, Team USA defeated Lithuania, 77-61, Saturday in Madrid.
Celtics point guard Rajon Rondo started, but struggled to give the first-unit offense a spark. He finished with 2 points, 2 rebounds, 3 steals, 4 turnovers, and just one assist over 14 minutes of play. He did not start the second half, lifted in favor of Russell Westbrook. ESPN.com's Chris Sheridan writes about Team USA shaking off "one of the worst quarters every played" by a senior U.S. national team after Rondo and Co. mustered a mere seven first-quarter points on 3-of-21 shooting.
Coach Mike Krzyzewski was asked about the lack of spark from the first unit, but didn't throw Rondo under the bus despite his poor outing.
Q: When you made the change from Rondo to [Derrick] Rose, it gave more options to players in the game?

Coach K: Well, I think it wasn't just Rondo, I think our team did not push the ball in the first quarter. When we got Derrick in and Russell [Westbrook], the tempo of the game picked up for us. We were playing a very slow tempo and if we do that then we're not going to have a chance to win. We have to play a little bit faster tempo. Then in the second half I thought Rajon did a good job of doing it. So our bench came through for us -- [Eric] Gordon, Westbrook, Rose, Rudy Gay, they all played very well coming off the bench.
Our friend John Karalis from Red's Army nails Rondo's performance with this analysis:
Here's the problem Rondo will face: He tends to shy away from physical front lines. And that's all he'll see in international play. They'll stack bunch of trees into a 2-3 zone and dare the U.S. to shoot. So Rondo's going to have to find his way around those guys. And there aren't going to be many bail-out calls either, so he can't fling himself into the middle and hope for a whistle.

So it was a struggle for Rajon. This was really his first good test -- overseas, hostile crowd, actual FIBA rules with international refs. He'll have to make a big adjustment. The good thing from a Celtics fan's perspective is that we now have a baseline for Rondo against which we can judge his progression over the next couple of weeks.
And this is exactly why it's good for Rondo to be participating with Team USA. He certainly seemed to lose some of his aggressiveness going to the basket after getting throttled by Shaquille O'Neal and the Cavaliers during the Eastern Conference semifinals last season. The Celtics want to see him being fearless going to the basket and part of that is going to be strengthening his free-throw shooting so that he's not mentally concerned about that, but the international competition will also force him to find ways to create when jump shots aren't falling for his team.
Team USA gets back to work Sunday against highly touted Spain (3 p.m., ESPN3). Click HERE to watch the game online.