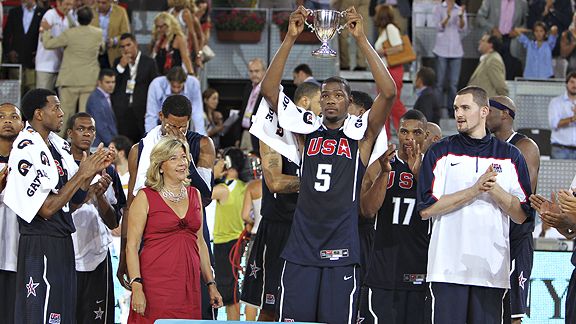 Nathaniel S. Butler/Getty Images
Rajon Rondo, back left, didn't leave his warm-up suit during Sunday's game.Kevin Durant blocked a pair of shot attempts by Ricky Rubio and Rudy Fernandez in the final seconds as Team USA hung on to top host Spain, 86-85, in a highly entertaining exhibition Sunday in Madrid.
Alas, the battle of two of the favorites at this month's FIBA World Championships did not feature Celtics point guard Rajon Rondo, who along with Danny Granger, drew a "DNP -- Coach's Decision" as Team USA coach Mike Krzyzewski suggested he wanted to get a look at other players as the team prepares for a final cut.
"Those are two veterans and young guys haven't had a chance to start or whatever, so before we select our 12 we needed to give everyone a look," Krzyzewski told reporters after the game.
Team director Jerry Colangelo told ESPN.com's Chris Sheridan: "Coach told the team this morning that he was going to try some other players, change the lineup. We've been off to some bad starts in our three games, and so he went with a different lineup, and he said some guys might not play today. And that's how it played out. I don't think anything is significant. I don't know what we'll do in the game against Greece, but we're still trying to determine who we are and how we're going to play, so that was just for today, what he chose to do."
Sheridan breaks down the decision and how Team USA escaped with the win.
Rondo watched the game from the bench with chin on hand for much of the time, but cheered on his teammates and seemed aware he would not enter the game. He had started Team USA's previous three exhibitions, but played poorly in Saturday's win over Lithuania.
It was expected that both teams might hold something back and by sitting out Rondo and Granger, Team USA does boast a new wrinkle should the teams meet again at the World Championships.
Team USA now departs Spain and heads to Greece to start another training camp there on Tuesday. An exhibition against the Greeks follows on Wednesday. The world championships begin Aug. 28 in Turkey.