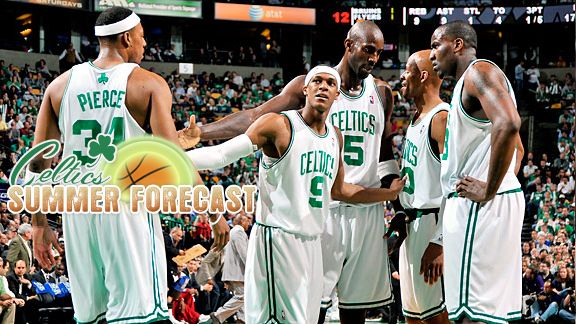 Brian Babineau/NBAE/Getty Images
What lies ahead for the 2010-11 Celtics. We've got experts with answers.Training camp doesn't start for another month and the 2010-11 NBA season doesn't officially tip off for 65 more days. The regular season won't end until eight months from now, and there will be two more months of playoffs before a champion is crowned.
Fortunately for the impatient type, over the next three weeks we're going to tell you everything that's about to happen to the Boston Celtics next season.
With a nod to ESPN.com's national Summer Forecast, we've assembled a panel of 15 writers from six of our favorite Celtics blogs -- CelticsHub, Red's Army, CelticsBlog, Celtics Town, North Station Sports, and Gino's Jungle -- to lend their thoughts on how Boston's season will unfold.
Each weekday for the next three weeks, our panel of experts will tackle one question about the 2010-11 Celtics, combining their crystal balls to provide the clearest glimpse into the future of Boston's basketball team.
We tipped off the series today by asking our panel to predict the Celtics' win-loss record for the upcoming season. The panel's average prediction: 54-28. That's a four-win upgrade from last season, when Boston finished 50-32 overall.
Click HERE to read the full story.