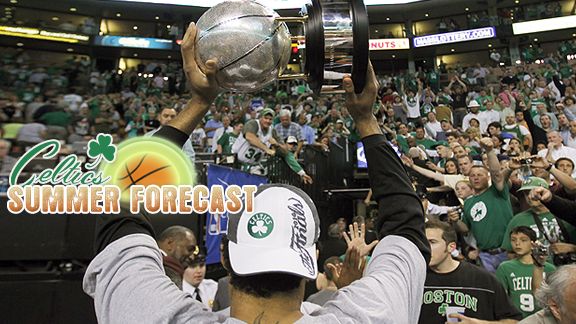 AP Photo/Charles Krupa
Where will the Celtics be seeded at season's end? Our panelists weigh in.The Boston Celtics proved last season that a team's regular-season record and playoff seeding are not always foolproof indicators of postseason success. Boston sleepwalked through the final four months of the 2009-10 season, earned the lowest possible seed for a division champion, and still came six minutes shy of winning an NBA title.
In Monday's debut of the Celtics Summer Forecast, our panel of experts predicted a four-win increase for Boston next season. Now, we ponder whether that will help the team improve upon the fourth seed it obtained last year.
Totaling up the responses, our scratchpad looked a bit like a scorecard from a solid round at the local Par 3 golf course (3, 2, 3, 2, 3, 3, 3, 4, 3, 2).
Our 18 experts (yes, we grew overnight) from eight Boston basketball blogs -- CelticsHub, Red's Army, CelticsBlog, Celtics Town, North Station Sports, and Gino's Jungle, Celtics Stuff Live, and Celtics 24/7 -- were fairly evenly split on whether the Celtics would land the No. 2 or 3 seed, with a slight edge going to the third spot. No one picked the Green to leap higher than No. 2 or lower than No. 4.
Click HERE to read the full story.