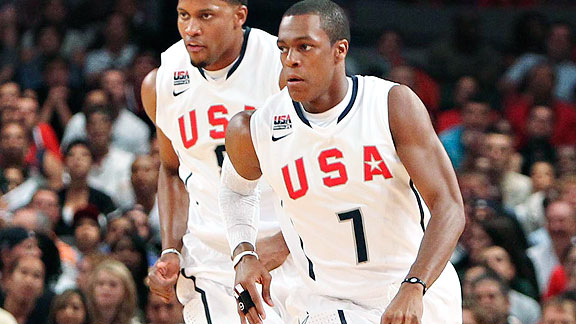 US Presswire
Celtics point guard Rajon Rondo acknowledges he's on the Team USA bubble.Celitcs point guard Rajon Rondo admitted Tuesday that he feels like he's on the bubble as Team USA prepares to make a final cut before the 2010 FIBA World Championships in Turkey. From ESPN.com's Chris Sheridan:
ATHENS -- Somebody is going to get cut from Team USA after Wednesday night's exhibition game against Greece, and Rajon Rondo has no illusions about where he stands.

"I think I'm on the bubble," Rondo said Tuesday. "Just looking at the obvious -- I got a DNP last game. That pretty much speaks for itself."

After losing his job as the starting point guard to Derrick Rose last weekend in Madrid, Rondo's stock has fallen to the point where it now appears he is third on the point guard depth chart behind Rose and Russell Westbrook.

But Rondo is not the lone player on the bubble, a fact Danny Granger acknowledged.

"I just think it really depends on what the coaches want from the team," Granger said at the OAKA Arena after the American team practiced in the very same building where the 2004 Olympic team received their bronze medals. "If we take more of a defensive approach, I could be [on the bubble]. If we take more of an offensive approach, then it's different. It just depends on what they want to do."
Click HERE to read the full story.