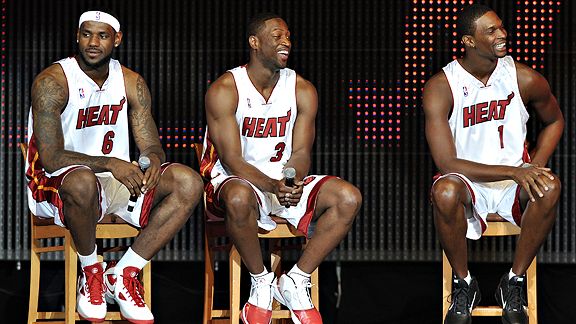 Steve Mitchell/US Presswire
LeBron James, Dwyane Wade and Chris Bosh are the overwhelming favorites to win the East.ESPN.com's national Summer Forecast today tackles the question of which team will win the Eastern Conference next season and the 93-member panel leans heavy in favor of the Miami Heat. Here's a glimpse at the results of the offseason poll:
The Celtics do have their supporters. Your humble blogger was one of the panelists that voted for Boston (be sure to check back Wednesday when our own Celtics Summer Forecast tackles how Boston's season will end; our local panel of experts and I predict how far Boston advances during the 2010-11 campaign). ESPN.com's Chris Sheridan also comes down in favor of the Celtics:
Celtics. Because they can defeat the Heat in the Eastern Conference finals with their size and their defense. Miami cannot defend the two O'Neals (Jermaine and Shaq) and Kendrick Perkins in the low post. And the Who Is The Alpha Dog question is going to become the Heat's undoing in the deciding game of that series? Also, the familiarity factor weighs heavily in Boston's favor -- something we all should have relearned while watching the Celtics last spring in the postseason.
Click HERE to read the full story.
Later today, we'll unveil Part II of our Celtics Summer Forecast, where our panel tackles what seed Boston should land in next year's postseason.