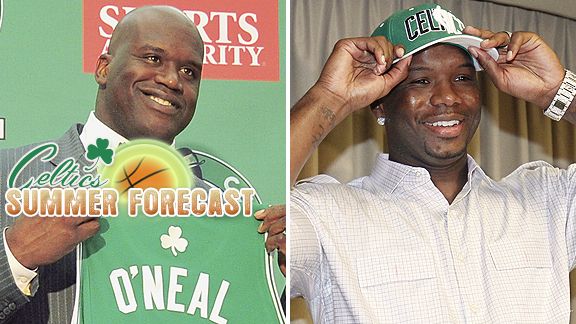 Getty Images, AP Photo
We asked our panel of experts whether Shaq or Jermaine O'Neal should start.Considering that the Boston Celtics are facing the prospect of being without their starting center for at least the first three months of the 2010-11 season, there are worse problems to have than deciding which former All-Star should start in his place.
In fact, when Kendrick Perkins crumpled to the floor in Game 6 of the NBA Finals, tearing his anterior cruciate ligament and ending his season (and maybe his team's championship aspirations, as well), the Celtics were forced to lean on an ailing Rasheed Wallace and an overwhelmed Shelden Williams. The Los Angeles Lakers summarily pounced, dominating the glass over the next seven quarters and winning consecutive games to emerge as 2010 NBA champs.
There should be no such issues with depth this year. Boston shored up that frontcourt this summer with the additions of Jermaine O'Neal and Shaquille O'Neal, two players who have combined for 21 All-Star appearances over 32 NBA seasons.
But which of the two O'Neals should start the 2010-11 season as Boston's center? We put that question to our 18-member panel comprised of writers from eight of our favorite Celtics blogs, and the response was an emphatic nod to Jermaine O'Neal.
Click HERE to read the full story.
Over on the national NBA Summer Forecast, the panel debates who will emerge as the Player of the Decade in the 2010's. None of Boston's players received a vote.