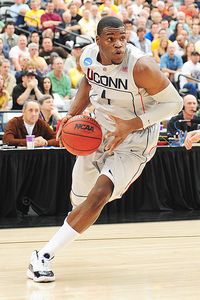 Mark J. Rebilas/US Presswire
Jeff Adrien turned down an invite to Celtics' camp for a better opportunity in Golden State.Before Jeff Adrien accepted a training camp invite from the Golden State Warriors earlier this week, he had offers from Memphis, Minnesota, and Boston on the table.
"Well, it's about really making it, you know," Adrien told ESPN Boston's Brendan Hall while discussing his local roots. Adrien starred at Brookline High School before a decorated career at the University of Connecticut. That wasn't enough for him to roll the dice on the team he grew up cheering for.
"I felt like with the Celtics, they're stacked over there, but it wouldn't be the right situation for me. Right now it's a business thing, and you've got to do what's best for you. I thought that was the best decision for me."
This is something Boston continues to run into while trying to bring in a few young bodies for camp. Unsigned players see a roster with 14 guaranteed contracts for next season, along with two non-guaranteed players already on the roster in Tony Gaffney and Oliver Lafayette, and are seeking better opportunities.
Northeastern's Matt Janning signed a contract to join the Phoenix Suns earlier this month, while Michigan's DeShawn Sims elected to play overseas in Greece. Both players suited up for the Celtics during the Orlando summer league in July and had received training camp invites.
Boston hasn't been bashful in noting it wants to add another shooter this offseason and the Celtics would prefer a proven veteran that can add depth at the wing spot. All of which is just another reason younger players might see better opportunities elsewhere.
While an intriguing option, Adrien is an undersized power forward (6-foot-6, 235 pounds) who might have had trouble finding playing time in Boston's revamped frontcourt. He spent last season in the Spanish League and hopes he can find a spot on a young team like the Warriors.