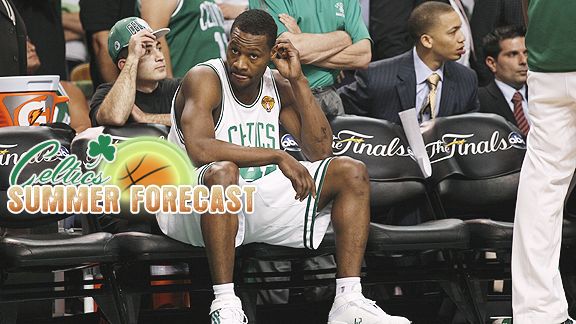 AP Photo/Winslow Townson
Tony Allen's departure helped leave one open seat on the Celtics' bench for next season.When free agency began on July 1, the Celtics boasted a mere five players under contract for the 2010-11 season (one of which planned to retire and another set to undergo major knee surgery). It seemed almost impossible that the team could max out its roster before training camp arrived.
But in a dizzying offseason that has featured 10 signings, that's exactly what happened. And after inking second-round draft choice Luke Harnagody earlier this month, Boston temporarily filled its roster with 15 players under contract for next season.
A space opened quickly when the team waived Rasheed Wallace, facilitating what will lead to his retirement from basketball. All of which leads to the biggest remaining question of Boston's offseason: Who will occupy that 15th roster spot?
We put that question to our panel of 18 writers from eight of our favorite Celtics blogs and got a diverse response about how Boston will proceed. The "slim pickings" (captain Paul Pierce's words) on the free-agent market left most of our experts suggesting a wait-and-see approach, while others are hopeful Ainge can work some of his trade magic and land the type of shooter he covets, like Portland's Rudy Fernandez.
A handful of our experts believe the team will settle on Tony Gaffney, the University of Massachusetts product without any NBA game experience, while one panelist was willing to (re-)roll the dice with Delonte West and his off-the-court troubles.
Click HERE to read the full story.