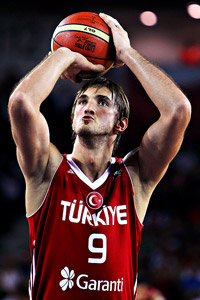 Roman Kruchinin/Getty Images
Semih Erden shoots a free throw Saturday vs. Ivory Coast.Celtics rookie center Semih Erden helped host Turkey open the 2010 FIBA Championship with a pair of wins this weekend.
On Saturday, Erden registered six points on 2-of-6 shooting with four rebounds and a block over 19 minutes off the bench in an 86-47 thrashing of Ivory Coast. On Sunday, Erden chipped in nine points on 3-of-6 shooting with five rebounds, and a block over 20 reserve minutes in a 65-56 triumph over Russia. Erden did lead his team in turnovers both nights (three in each game).
Turkey enjoys a day off Monday before a matchup of Group C's undefeated squads when it tangles with Greece on Tuesday. The preliminary round-robin runs through Thursday before second-round action begins Saturday.
Erden signed a two-year contract with the Celtics this summer. He was originally selected by Boston at No. 60 in the 2008 NBA Draft, but remained overseas the past two seasons before making the NBA leap. Erden appeared in four games for the Celtics' summer league squad last month in Orlando.